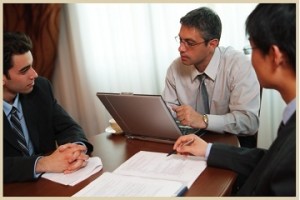 The Flat Fee Consultation 
The flat fee consultation costs $270 to evaluate your claims or defenses.
Why $270?
Our fee comes from the fact that our hourly fee is $220/hour, plus we have to run a conflict check (to make sure we never represented the opposing party).  We also have to schedule a time to review your matter and discuss with you your rights.  If your case involves 15+ pages of emails or other documents to evaluate your case, there may be an additional charge.
During the consultation we tell you your rights, options, and the costs of going forward.  We apply decades of experience to tell you, realistically, what you are facing in our particular case.  
Is it worth the cost of prosecution?
Honestly, we may not have good news for you on this front, after we review your case for the flat fee.
You may have a valid claim, but then you have to decide, is it worth paying a lawyer to prosecute the case?  Plus, your reputation may have been damaged, to some degree, but what dollar value would a jury put on it?  Unless you have a claim for lost wages, or lost business opportunity because of the defamation, we may not have good news for you in terms of the benefits of going to trial.
And, if you win, can you collect on the judgment you receive?
Bringing a Claim  
After the initial Flat Fee Consultation, the lowest cost option (short of filing a lawsuit) is for us to write a "cease and desist" letter to the responsible party. Remember, a "cease and desist" is just a letter.  It can be tossed in the garbage by the party receiving it, especially if the person is unreasonable, but sometimes the "cease and desist" works to get the person to retract the statement or just stop making future statements.
Litigation
You may have the option of litigation, in many instances, but there will be costs.  We charge an hourly fee in most instances.  Very few of our cases are handles on a contingency basis. Rather, most often, we charge an hourly fee, most of the time, of $220 per hour.  If, somehow, the party who defamed another has insurance that actually covers the defamation, then there is a slight chance we could handle the dispute on a contingency fees, but those situations are rare, and you should not think we'll take the case on a contingency fee basis just because it appears that the defendant has assets that can be garnished to pay you for your damages.  Our firm is not set up to chase assets.  We look for insurance, primarily.
Defending a Claim
Our hourly fees to defend a claim are $220 per hour.  We give you a forecast upfront of litigation costs for each stage of representation.  A civil suit can be settled at any stage, and very few go all the way to trial.
Call or Email Any Time